The Daylily Place
Stippled Daylilies
What is a "stippled" daylily? I'm not sure it has been defined for Hemerocallis, but to me it means having the petals and/or sepals stippled with a different shade or color. The term "plicata" was formerly used here, by analogy to some types of irises. However, the root of plicata comes from the Latin for folded, so this is not an appropriate term to use for these dotted or speckled patterns.
The following images of stippled daylilies have been presented for your enjoyment.
---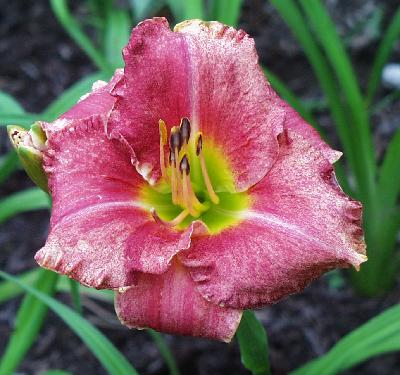 stippled seedling #1216t63 from [RADAR LOVE X BYZANTIUM]. Flower is 5"; Ht. 16"; Petals 2.6"; sepals 1.75". Bloomed E this year, might be EM in a normal year. Neither of the parents has any noticeable stippled in their patterns, so I don't know where it came from in this seedling. First bloom in June, 2000.


---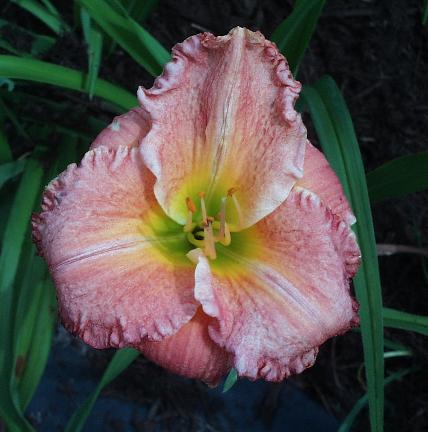 A second seedling from the same cross, [RADAR LOVE X BYZANTIUM], has turned up stippled: #1216t09. Flower is 4.5"; Ht. 21". Petals are 2.7 to 2.9 inches wide; sepals are 1.6 inches wide. First bloom in July, 2000.

---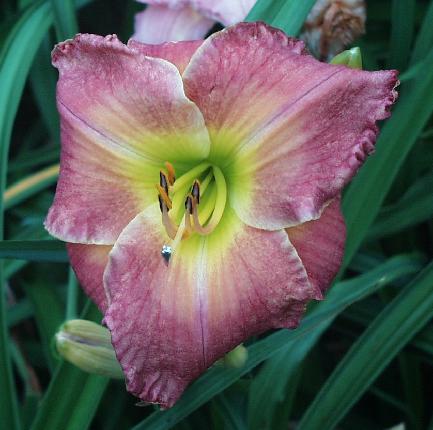 Seedling #1191t04 is the only stippled seedlings so far from the cross [REGAL BRAID X BYZANTIUM].

---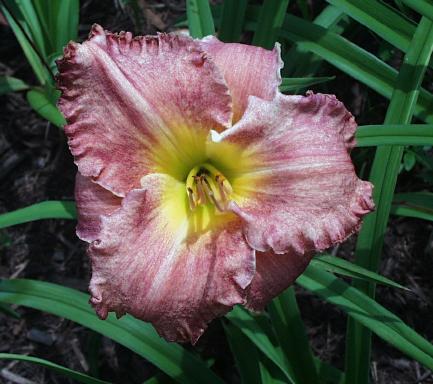 This first-year seedling, #1213t16, is from the 1998 cross [CREATIVE EDGE X BYZANTIUM]. Flower is 5" wide on a scape only 15" tall. Petals are 2.5" wide and sepals are 1.7". First bloom in July, 2000.

---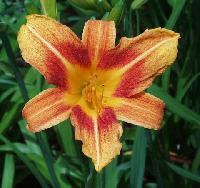 PUTNEY SPOTTED FEVER (Engle, 1991) is a dip, registered as 24" tall and flower 4½", fragrant and dormant.

---

HOOSIER PLICATA (Jim Shields, 1999) Dip, Ht 24.0, M, Flwr 4.5, Dor, lavender stippled bitone. Seedling #677D22. Parentage is [JOAN SENIOR X PANDORA'S BOX]. The ground color here is a creamy lavender and the stippling is in a slightly darker shade of lavender, so it barely shows up in the larger picture (just click on the smaller picture at left).

---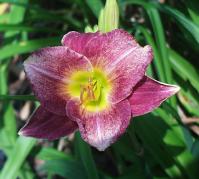 DOTTED SWISS (J. Dickerson, 1990) tet, 20" ML 3½" lt. purple blend dotted white w/GT; D.

---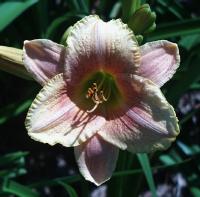 EXPANDING UNIVERSE (Ted Petit, 1998) tet, 26" M 5½" bright cream w/cinnamon stippling & GT; Sev - Ev

---
There are many other stippled or stippled daylilies around. There is a list compiled by Brian Mahieu and Patti Waterman that contains most of them: [stippled List]
---

---
Revised last on 10 November 2011.
© Copyright 2011 by James E. Shields. All rights reserved.