Great Lakes Bulb Society
Great Lakes Bulbs Meeting 15 July 2000
The Great Lakes Bulb group met on Saturday, July 15th, 2000, at the home of Keith Brown in Lafayette, Indiana. Members saw slides and heard a report on Boyce Tankersley's trip to the Republic of Georgia earlier this year. Sandy Ross showed slides, some quite old, of Lilium species that have been in cultivation and a few of the hybrids derived from them. There was a tour of Keith's garden, with numerous lilies still blooming, and his beautiful old post-Civil War era home.
Some candid snapshots in the garden follow. Click on the small image to view a much larger version (1.7 MB -- only for cable-modem or DSL users).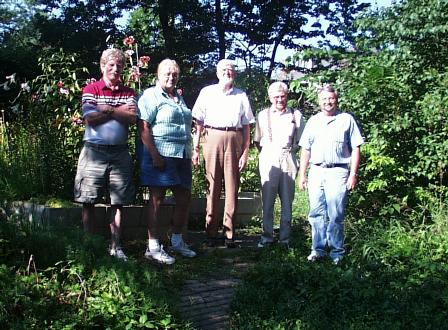 Members in attendance (left to right): David and Sandy Ross, host Keith Brown, Jim Shields, and Boyce Tankersley. Boyce's family also came with him, but they were busy working the cameras for this shot.
---
Examining one of Keith's lilies are Boyce, Sandy, Keith and David.

---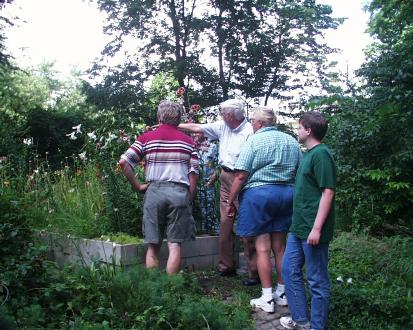 ---

---
The opinions expressed by contributors to these pages are solely those of the individual writers and do not necessarily reflect the opinions of the account owner, or other members of the this group. For information about this account, contact:
James E. Shields,
jim@shieldsgardens.com

Last updated 13 March 2001.
© Copyright 2001 by James E. Shields. All rights reserved.