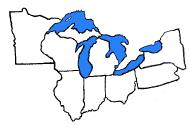 Great Lakes Bulb Society
Hardy Bulbs
for the Midwest
---
Are these bulbs hardy in your garden?
---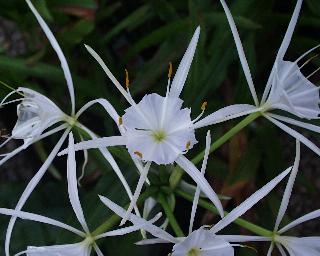 Hymenocallis occidentalis (Amaryllidaceae) is reported to have ranged north of the Ohio River into southern Illinois, Indiana, and perhaps Ohio. Bulbs are hardy in Indiana. The sword-like gray-green foliage emerges in late spring and may die down in later summer in dry weather. The flowers appear in late summer or autumn. The 6 to 8 brilliant white blooms are up to 7 inches across from petal-tip to petal-tip. The staminal cup is about 2 inches in diameter. The scape (bloom stalk) is 18 inches to 3 feet in height. The species is said to prefer moist areas in partial shade.
I would appreciate hearing from you if you grow this or related species in a northern climate. Jim Shields, jim@shieldsgardens.com

---
Hippeastrum x-johnsonii is said to be quite hardy in cold climates. Have you grown it successfully outdoors, in the ground, in a colder climate (i.e. USDA zone 7 or colder)? If so, we want to hear from you. E-mail to Jim Shields, <jim@shieldsgardens.com>
---

---
The opinions expressed by contributors to these pages are solely those of the individual writers and do not necessarily reflect the opinions of the account owner, or other members of the this group. For information about this account, contact:
James E. Shields,
jim@shjieldsgardens.com

Last updated 27 January 2003
© Copyright 2003 by James E. Shields. All rights reserved.