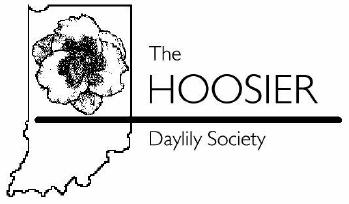 Hoosier Daylily Society, Inc.
---
The Hoosier Daylily Society, Inc., has been founded to provide a forum for the study and enjoyment of Hemerocallis, the daylily.
---
Program for 2005-2006
Meetings: October through May, on the fourth Thursday of the month (or as announced), at 7:00 PM. Location is Carmel City Hall, unless annnounced otherwise. There will be no formal meetings in June, July, and August, but "open garden weekends" may be arranged to encourage members to visit one another's gardens during daylily bloom season.

Meeting schedules are available for now through May 2006. Everyone interested in daylilies is invited to attend.
---
Dues: Individual dues are $8.00 annually; dual memberships (two adults plus any minors at one address; receive only one copy of mailings) are $12.00 per year. Payments may be sent to the Secretary or to the Treasurer.
---
Contacts:
---
Current Officers
Officers and Directors for 2005-2006
---
A.H.S. Region 2
This society is affiliated with the American Hemerocallis Society (AHS) in Region 2.
Region 2 of the AHS has a home page at: http://ahsregion2.org/
---
The Midwest Hybridizers Semiannual Meetings
Attend the Midwest Hybridizers meetings in Dayton and Cincinnati, Ohio, every 6 months. For more information, [Click here]
---
Last modified 23 November 2005
© Copyright 2005 by Hoosier Daylily Society, Inc. All rights reserved.