The Amaryllis Family: Hippeastrum harrisonii
---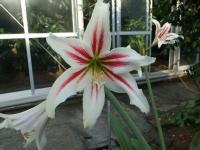 Hippeastrum harrisonii is native to Uruguay, where it is found growing along river banks. This beautiful wild species is related to the Striatum group. It requires constant moisture. In order to trigger the initiation of flowering, the plant may need to experience freezing temperatures. In these respects, it somewhat resembles Hippeastrum angustifolium from Argentina.
Hippeastrum harrisonii
Photo © copyright 2007. From I.B.S. Seed Exchange;
used by permission of Herb Kelly; all rights reserved.
---
---



---
Visit the Great Lakes Bulb Society home page.

For more information about the Great Lakes Bulb Society, contact:
Jim Shields, at jim@shieldsgardens.com.
---
For information about this account, contact: James E. Shields, jim@shieldsgardens.com
Last revised: 04 December 2007
© Copyright 2007 by James E. Shields. All rights reserved.