Shields Gardens Ltd.
Bulbs of the World


---
The Amaryllis Family: Genus Hymenocallis
Hymenocallis acutifolia is native to southern Mexico. It grows in and near rivers and streams. In habitat, it is probably evergreen. For me, it blooms in late July or in August. It seems to grow better if we keep the pot in a saucer filled with water. Peduncle length 22 cm. Tepal tube is 70 mm long. Large cup with diameter 50 mm; declinate tepals ca. 110 mm long and ca. 7 mm wide near the cup. Some clones offset abundantly, others only sparsely. My two accessions do not set seed easily.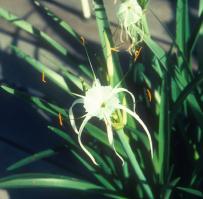 Hymenocallis cf. acutifolia collected by Dr. Thad Howard in Mexico. Deciduous in winter. Unlike more recent accessions of acutifolia, this one (my #104) did very well in a pot with no saucer with extra water; it also was self fertile and set abundant seeds. This variety has apparently disappeared completely from cultivation.

Hymenocallis arenicola is a member of the Caribaea Alliance. It is native to the Caribbean region. It is generally similar to caribaea and the other members of this alliance, but it is characterized by leaves that have blunt, rounded tips, lacking the usual sharp point of this group. The arenicola bulb has a neck, while the bulb of caribaea does not.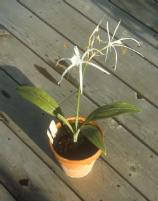 Hymenocallis azteciana from western Mexico. Glaucous petiolate leaves. Flowers with small cups, produced in late summer. My plant blooms very rarely, the inflorescence often aborting while only its tip is visible in the center of the leaves. I have never seen it produce offsets.

---
Foliage of Hymenocallis durangensis (left) and azteciana (right):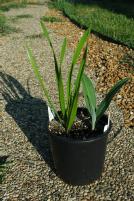 ---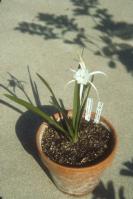 Hymenocallis durangensis from the State of Durango, Mexico. Flowers in early summer; erect, bright green foliage. Small to medium size plant. Self-fertile, sets seeds readily.

Hymenocallis caribaea is native to the Caribbean region. Generally similar in appearance to its near relatives, H. arenicola, H. latifolia, and H. littoralis, caribaea develops into a larger plant and bulb, and the bulb has no neck. The leaf tips are broadly or bluntly pointed, i.e., mucronate in form ("abruptly terminated by a hard point"). The flower cup is smaller than that of H. latifolia. [Thanks to Kevin Preuss for details.]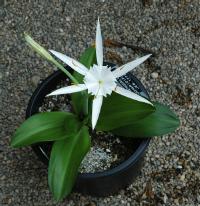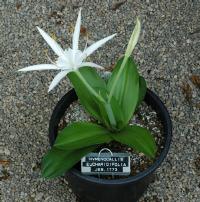 Hymenocallis eucharidifolia Last found in the wild about 150 years ago, these bulbs represent a brand new collection. Grows best in light to medium shade, dormant in winter. Three to five white flowers, 6 inches across tips of tepals, which are 0.5 inch wide. Foliage comes up in spring. Leaves are about 2.6 inches wide and eucharis shaped, i.e., with a pseudo-petiole. Native to rain forest in southern Mexico, where it grows as an understory plant. These were found in Oaxaca State, at low elevation.

Hymenocallis expansa is a member of the Caribaea Alliance. It is generally similar to H. caribaea, but the flower cups are smaller, somewhat tubular, and tinted with green or yellow.

Hymenocallis graminifolia is an extremely rare Hymenocallis species. A colony was recently found in Mexico, but it is being destroyed by cultivation. This species has never been readily available. This is a dwarf plant, reaching about one foot in height. Mature bulbs are 1 to 1.25 inches in diameter. Glaucous leaves. Has 1 or 2 erect flowers with large staminal cup; sets seed and produces offsets. It comes from Morelos, a summer rainfall area, and needs dry winters. [Herb Kelly Jr.]

Hymenocallis harrisiana is common in commerce, but the commercial clone(s) do(es) not flower freely; they do produce lots of offsets, however. The species occurs naturally in south-central Mexico, according to Thad Howard (2001). My few plants that flower do so in late spring or very early summer. Erect, glaucous, petiolate leaves.

Hymenocallis latifolia is a medium to large plant native to Florida and the Antilles. It has apparently also been found in Yucatan. The flower tube is 11 to 15 cm (4 to 6 inches) long, and the cup is larger and free of the tepals. The long tapering leaves are very sharply pointed; with age, the bulb develops a short neck that can reach ca. 10 cm. (4 inches) in diameter. [Thanks to Alan Meerow, Kevin Preuss, and Alberto Grossi for details.]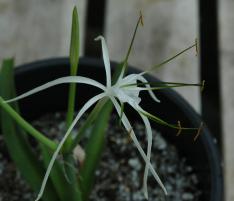 Hymenocallis lehmilleri is a small plant. The leaves are up to 16 mm in width. The peduncle is 75 mm high, and the umbel had 3 buds when it flowered for me. The staminal cup is about 20 mm across when the flower first opens. Tepals are 70 mm long and about 3 mm wide (as they stand). My plant is apparently not quite typical. The original description is for a plant with leaves up to 41 cm long by 30-40 mm wide at widest point; peduncle 30-38 cm long, 4 - 6 flowers in umbel, cup 10 - 15 mm wide, tepal tube 9-10 cm long. Tepals greenish-white, 70 mm long by 5 mm wide. Grows near sea level in swampy ground near ponds.

Hymenocallis littoralis is native to the coastal regions of southern Mexico and Central America, and two wild populations are reported to have been found on the West Coast of Florida. The tepals are adnate (attached to) the staminal cup. The flower tube is 14 to 17 cm (5½ to 7 inches) long or longer. With age, the bulb devlops a neck that reaches 4 to 5 cm in diameter (up to ca. 2 inches). [Thanks to Alan Meerow, Kevin Preuss, and Alberto Grossi for details.]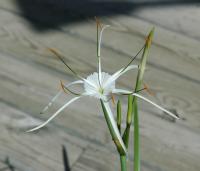 Hymenocallis riparia is a Mexican species. My plant is more erect than acutifolia, with longer, narrower leaves (15 to 19 inches or 38 - 48 cm long by 15 mm - 19 mm wide). The umbel of 4 buds is carried on a peduncle 39 cm. high. The tepal tube is 145 mm long. The staminal cup is 35 mm across. Tepals are 110-110 mm long by 8 mm wide near the base.

Hymenocallis sonorensis is native to the states of Sinaloa and southern Sonora in Mexico. Blooms late in the season for me (September or October), when it blooms at all. The foliage is narrower than acutifolia.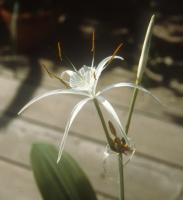 Hymenocallis woelfleana from the mountains of Sinaloa, Mexico. Leaves are petiolate. Very few bulbs of this species are in cultivation, and I find it very difficult to grow. My bulb has never bloomed yet.

---
Other Sources of Information
T.M. Howard, "A New Hymenocallis from the State of Guererro, Mexico," HERBERTIA vol. 58, pp. 141-144 (2003-2004). Description of Hymenocallis lehmilleri.
Bulbs for Warm Climates, Thad M. Howard, University of Texas Press, Austin (2001).

Bulbs, Revised Edition, John E. Bryan, Timber Press, Portland (2002).

Bulbs of North America, Jane McGary, Editor, Timber Press and North American Rock Garden Society, Portland (2001).

Flora of North America, Vol. 26. Oxford University Press, New York, 2002.

RHS Manual of Bulbs, John Bryan and Mark Griffiths, Eds., Timber Press, Portland (1995).

---


---
For information about this account, contact: James E. Shields, jim@shieldsgardens.com Last revised: 09 January 2010
© Copyright 2004, 2006, 2010 by James E. Shields. All rights reserved.