The Amaryllis Family: Propagation
Lycoris Chipping
---
We undertook to propagate Lycoris bulbs using bulb chips. While older plantings of Lycoris often have large numbers of bulbs in clusters, the actual rate of increase is rather slow on an annual basis.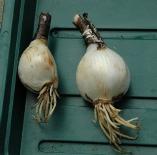 Large, healthy bulbs of Lycoris squamigera were dug from a garden in late summer. They had been standing bare at room temperature for several weeks when used in these experiments. The bulbs were washed thoroughly in water and much of the dry tunic material was removed. Finally, the bulbs were disinfected by prolonged soaking in Consan 20 solution (1 tablespoon [ca. 15 mL] of Consan 20 in 1 U.S. gallon [ca. 3.78 L] of tap water).

Bulbs were cut while immersed in the dilute Consan 20 solution. The bulbs were partitioned vertically into halves, then into quarters, and into eighths, all vertically cut. Finally some of the one-eighth sections were cut transversely into 1/16ths.
| | |
| --- | --- |
| Halved | Quartered |
The chips were placed in trays or pots of vermiculite and perlite. These were placed in a warm room at 80°F days and 70°F nights. After about 6 weeks, numerous bulblets had formed on many of the chips.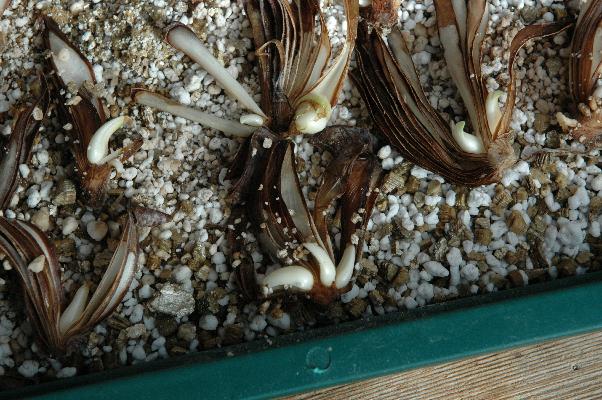 Lycoris squamigera Bulb Chips at Six Weeks.
---
References
U. Amico Roxas, G. Iapichino, and G.V. Zizzo, "Effect of different bulb sections on Lycoris bulblet multiplication by chipping" in ISHS Acta Horticulturae 517: XXV International Horticultural Congress, Part 7: Quality of Horticultural Products.
A. Santos, F. Fidalgo, I. Santos, and R. Salema, "In vitro bulb formation of Narcissus asturiensis, a threatened species of the Amaryllidaceae," Journal of Horticultural Science and Biotechnology, vol. 77, no. 2, pp. 149-152 (March 2002).
R. Tipirdamaz, "Rooting and acclimatization of in vitro micropropagated snowdrop (Galanthus ikariae Baker.) bulblets. Akdeniz Universitesi Ziraat Fakultesi Dergisi, vol. 16, no. 2, pp. 121-126 (2003).
Other Sources of Information
The Physiology of Flower Bulbs, August De Hertogh and Marcel Le Nard, Elsevier Science Publishers, Amsterdam (1993).
Bulbs for Warm Climates, Thad M. Howard, University of Texas Press, Austin (2001).

Bulbs, Revised Edition, John E. Bryan, Timber Press, Portland (2002).

RHS Manual of Bulbs, John Bryan and Mark Griffiths, Eds., Timber Press, Portland (1995).

---


---
For information about this account, contact: James E. Shields, jim@shieldsgardens.com
Last revised: 02 March 2006
& Copyright 2004, 2006 by James E. Shields. All rights reserved.