Shields Gardens Ltd.
Bulbs of the World


---
The Amaryllis Family: Cyrtanthus
The genus Cyrtanthus is native to South Africa. It appears to be possibly one of the most primitive groups in the Amaryllis Family. That is, it is a sister group to one of the main groups of amaryllids in South Africa.
These bulbous plants have small to medium sized flowers which may be pendulous bells or horizontal to upright flaring and funnel-shaped. Most require pot culture, as they do not tolerate hard freezes. They bloom in autumn, winter, or spring. They need to be grown outdoors in full sun in summer.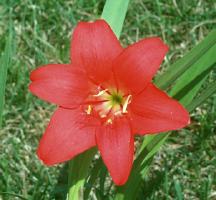 One of the flaring species is Cyrtanthus sanguineus. The lone flower, 3½" wide, is carried on a scape reaching 10 inches in height. The foliage is deciduous and is shed in winter.
Cyrtanthus sanguineus
The most well-known species is Cyrtanthus elatus, the Scarborough Lily, often found under the obsolete names "Vallota speciosa" and "Vallota purpurea". It is similar to C. sanguineus in appearance.
---
Other Sources of Information
C. Reid & R. Allen Dyer, A Review of the Southern African Species of Cyrtanthus, American Plant Life Soc. (1984). ISBN: 0-930653-00-9
RHS Manual of Bulbs, John Bryan and Mark Griffiths, Eds., Timber Press (1995).
Bulbous Plants of Southern Africa, by Neil du Plessis and Graham Duncan, Tafelberg Pub. Ltd., Cape Town (1989).

---



---
Visit the Great Lakes Bulb Society home page.
---
For information about this account, contact: James E. Shields, jim@shieldsgardens.com Last revised: 14 February 2013
© Copyright 2013 by James E. Shields. All rights reserved.