:

August 2006
South Africa in 2006
August 19, 2006 21:30
This is a diary of our visit to South Africa in September 2006.
Itinerary
August 20, 2006 11:06
We will fly from Indianapolis to Dulles (Washington DC) and thence by South African Airways to Johannesburg. It will be an approximately 18-hour long flight.
We will attend the International Clivia Conference in Pretoria and the Pretoria Clivia Show, then drive to Kruger National Park. We will visit Kruger and other game parks in the area, and finally attend the KwaZulu-Natal Clivia Show in Pietermaritzburg. After this, we fly from Durban to Cape Town.
In Cape Town we will visit Kirstenbosch National Botanic Garden and tour the Cape Peninsula area. After the Cape Clivia Show, we drive north into the wildflower country.
At the end, we fly from Cape Town to Johannesburg and catch our South African Airways flight from Johannesburg to Washington Dulles.
Preparations
August 22, 2006 08:55
Actually, almost all our preparations have been taken care of at this point. Our local travel arrangements in South Africa are being handled by "African Insight," and most of the details were finalized weeks ago.
I'm still worrying about some of my winter-growing bulbs that seem to want to start growing now. That means even more flower pots on the deck for the house- and plant-sitters to take care of while we are away. Haemanthus coccineus is starting to bloom, at least a month earlier than last year. Haemanthus barkerae bloomed a couple weeks ago, entirely unnoticed by me!
The big greenhouse almost takes care of itself. The environment controller turns on the exhaust fans when it gets warmer inside than the set point, and turns them off when the temperature drops back down into the set range. Should it get too chilly, the controller will turn on the gas furnace for as long as needed. The drip irrigation controller waters the pots it can reach periodically. Only a batch of pots on the floor beyond the drip irrigation system will need the attention of my daughter, Andrea, who is plant-sitting on the weekends while we are gone.
Take Your Pills
August 24, 2006 08:50
One thing to keep in mind, if you are going to travel outside the USA and you are a "Senior Citizen" like my wife and I are, is that you have to take all your pills with you when you leave the U.S. Unless you know a physician in the country you are going to visit, you won't be able to get new prescriptions overseas. In many cases, medications available in the USA may not be available in other countries.
On the other hand, many prescription drugs in the USA are freely available without prescription in some other countries. It's a "catch as catch can" situation and virtually unpredictable. Therefore, before you leave, get enough refills on your prescriptions to last you until you get back home again. I'm in the midst of doing that right now.
We are going to be in malaria country for about a week or 10 days of our trip, so we will have to take malaria medications to prevent infection while there. You can get some ideas about the health hazards to be found in any country of the world by going to the C.D.C. web site.
Most of South africa is free of malaria. We fly into Johannesburg and will spend about a week in Pretoria. These are in the High Veld, at quite high elevations, very dry most of the year; and it can get downright cold there in winter, with occasional overnight frosts. There is only mimimal risk of contracting malaria there.
Kruger Park is in the Low Veld, in Limpopo Province, and is definitely malaria country. Limpopo Province, formerly known as the Northern Province, is mostly Low Veld, warmer in winter, wetter in summer, and home to malaria. Kruger is a wonderful place to visit, but go prepared to avoid catching malaria.
Jet Lag
August 29, 2006 08:50
I wonder what the best way is to deal with jet lag? The time difference in South Africa is +6 hours from Eastern Daylight time in the USA.
This time, I decided to try the approach of getting up earlier than usual for a few days before the flight. There are 5 days left till we leave. I'll get up at 5:00 AM for a few days, get up at 4:00 AM on the fifth day, and get up at 3:00 AM on the morning we actually leave home.
I am going to miss most of the autumn bloom of my Haemanthus coccineus bulbs here at home. Two are in bloom now, but others are just showing the tips of their new scapes. I see more scapes starting already than I had flowering all last autumn. Haemanthus coccineus have the most impressive blooms of the various Haemanthus I grow.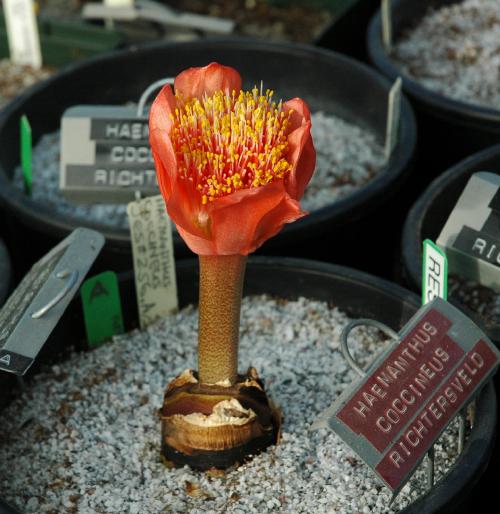 Since it is going on spring in South Africa, we probably won't see any Haemanthus in bloom while there. In past years, we were there in winter (August) and in late autumn (May), but too late for Haemanthus. We expect to make up for that by seeing lots of Clivia and many spring wildflowers in bloom, which we have never seen there in the past because of the timing of our previous visits.

[Respond or comment on this entry.]