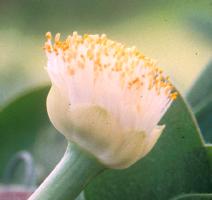 © Copyright 2002 by James E. Shields. All rights reserved.
The flower head resembles a paintbrush, so this white-flowered plant can be called the White Paintbrush. It blooms mainly in autumn, but occasional blooms may occur at any time in cultivation.
The bulb sits on the surface of the soil or potting mix, and exposed live tissue is green and photosynthetic. There are usually four leaves on the plant at a time. The oldest are shed as new leaves grow out. Unlike many Haemanthus species, the bulbs of this one produce offsets readily.