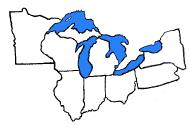 Great Lakes Bulb Society
Jim Shields' Lachenalia
---
Lachenalia is a genus in the Hyacinth Family (Hyacinthaceae) that is native to southern Africa. Most of the species are found in the Western Cape Province of South Africa and some in Namibia. The bulbs are tender in cold climates and where their dormant season is wet. The first to bloom in my collection is Lachenalia rubida. Other species of Lachenalia bloom in an on-going sequence through winter into early spring, when the last species blooms before they all go dormant for the summer.
| | |
| --- | --- |
| | Lachenalia rubida is one of the first Lachenalias to bloom in autumn. This is a form with bronze foliage, which I think is called "rubrum" |
| | Lachenalia viridiflora is next to bloom in my greenhouse in autumn. Most "green" flowers strike me as unattractive; this one is truly beautiful. |
| | Lachenalia aloides quadricolor blooms sometime after rubida and viridiflora have finished. The individual flowers are larger, and the multicolored petals are striking. |
| | Lachenalia mutabilis is known for the three different color zones of the scape: yellow below, pink in the central portion, and blue at the top. |
Links to related WWW pages: The Genus Lachenalia
Care and Culture of Lachenalia
---

---
For information about this account, contact:
James E. Shields,
jim@shieldsgardens.com

Last updated 4 March 2003
© Copyright 2001, 2003 by James E. Shields. All rights reserved.