Shields Gardens
Science Section


---
The Genus Trillium
---
The genus Trillium was traditionally in the family Liliaceae, but at that time the Lily Family was a catch-all for lots of different kinds of monocots. Today it is either considered to be in its own family, Trilliaceae, or in the family Melanthiaceae. In either case, Trillium are closely related to the newer, more specific Lily Family.
The closely related genus Paris occurs in eastern Asia. The genus Trillium today has species in Japan and in western North America, but its main concentration seems to be southeastern North America.
Distribution of haplotypes of Trillium grandiflorum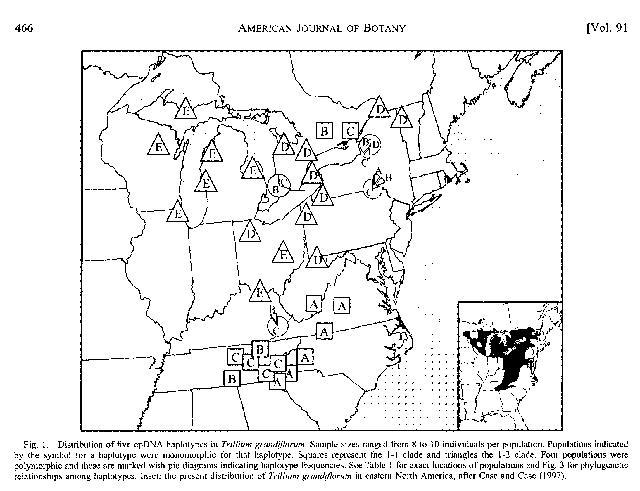 From: S.R. Griffin and S.C.H. Barrett, American J. Botany 91(3): 4650473, 2004
---
Trillium Resources on this Site
---
Trillium Reference Books
Trilliums by F.W. Case and R.B. Case. Timber Press, Portland, Oregon, (1997).

Trilliums at Mt. Cuba Center by Jeanne Frett. Pub. by Mt. Cuba Center, Greenville, Delaware, (2007).

American Treasures: Trilliums in Woodland and Garden, Don L. Jacobs and Rob L. Jacobs. Eco-Gardens, Decatur, Georgia (1997).

Bulbs for Warm Climates, Thad M. Howard, University of Texas Press, Austin (2001).

Bulbs, Revised Edition, John E. Bryan, Timber Press, Portland (2002).

RHS Manual of Bulbs, John Bryan and Mark Griffiths, Eds., Timber Press, Portland (1995).

Susan Farmer's Trillium Site is the best out there.

Return to Plant Science Home Page.
---
---
For information about this account, contact: James E. Shields, <shieldsgardens@gmail.com>, webmaster Last revised: 30 December 2011
© Copyright 2011 by James E. Shields. All rights reserved.