Shields Gardens Ltd.
Bulbs of the World


---
The Amaryllis Family: Genus Hymenocallis
The genus Hymenocallis is native to the New World, occurring from the lower Mississippi Valley and Southern United States through Central America and the Carribean. The flowers are white, with a pronounced staminal cup and narrow tepal segments (petals and sepals). The members of the genus are often called Spider Lilies".
The species in the genus Hymenocallis have been in a sad state of confusion. It is currently still impossible to say precisely how many species there are, but the publication of the Flora of North America has helped.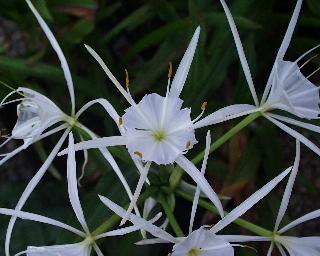 Hymenocallis occidentalis (Amaryllidaceae) is reported to have ranged from the Carolinas, Tennessee, western Kentucky, Missouri, and Arkansas to north of the Ohio River into southern Illinois, southern-most Indiana, and perhaps Ohio. Bulbs are hardy in Indiana. The sword-like gray-green foliage emerges in late spring and may die down in later summer in dry weather. The flowers appear in late summer or autumn. The 6 to 8 brilliant white blooms are up to 7 inches across from petal-tip to petal-tip. The staminal cup is about 2 inches in diameter. The scape (bloom stalk) is 12 to 24 inches in height. The species is said to prefer moist areas in partial shade. Another name for it is Hymenocallis caroliniana.

I would appreciate hearing from you if you grow this or related species in a northern climate. Jim Shields, < jim@shieldsgardens.com>. Do you know of any other species of Hymenocallis that are hardy in the North?


Hymenocallis galvestonensis has been merged into H. occidentalis by Gerald Smith (see: Flora of North America, vol. 26, pp. 283-293, 2002). The name H. galvestonensis was formerly applied to those plants ranging from Texas eastward through the Gulf Coast States to Georgia.

Hymenocallis liriosme occurs along the Gulf Coast from Texas to Florida. It grows on beaches and along the shores of rivers. H. liriosme produces its inflorescence in spring, the scape appearing at the same time as the new flush of leaves appears.

Other Southeastern U.S. species related to occidentalis include choctawensis, coronaria, and franklinensis.

Other species found in the United States include a large group in Florida, such as godfreyi, henryae, palmeri, and puntagordensis.

In Mexico, a large number of very localized species have been found. They are usually confined to a single region or even a single river valley. Once called the "Mexicana Group" these include acutifolia, astrostephana, azteciana, baumlii, chiapasiana, durangensis, eucharidifolia, glauca, guerreroensis, harrisiana, horsmanii, howardii, maximilianii, nayaritiana, phalangidis, riparia, sonorensis, and woelfleana.

Also in Mexico is Hymenocallis imperialis, "Big Fatty" because of the very robust character of the large bulb and very wide, slightly petiolate leaves.

Another group are found on the islands of the Caribbean and around the shores of the Gulf of Mexico. Hymenocallis caribaea is characteristic of this group, which also includes latifolia, littoralis, expansa, and "Tropical Giant." H. latifolia is probably the most common species of Hymenocallis found in Southern gardens (see next page).

For more Hymenocallis species:

---
Other Sources of Information
Flora of North America, Vol. 26. Oxford University Press, New York (2002), pp. 283-293. "Hymenocallis," Gerald L. Smith & Walter S. Flory.
Bulbs for Warm Climates, Thad M. Howard, University of Texas Press, Austin (2001).
Bulbs, Revised Edition, John E. Bryan, Timber Press, Portland (2002).
Bulbs of North America, Jane McGary, Editor, Timber Press and North American Rock Garden Society, Portland (2001).
RHS Manual of Bulbs, John Bryan and Mark Griffiths, Eds., Timber Press, Portland (1995).

For a list of species names, see the Missouri Botanic Garden's Tropicos On-Line Database at http://mobot.mobot.org/W3T/Search/vast.html
---



---
For information about this account, contact: James E. Shields, shieldsgardens@gmail.com Last revised: 14 February 2013
© Copyright 2013 by James E. Shields. All rights reserved.