Sunday, February 14, 2010, 10:30 AM EST - Winter Pastime
Birds at the Feeders

With so much snow on the ground, and since Smokey, our last outdoors cat, passed away last summer, we decided it was time to put up some bird feeders again after at least a twenty-year absence. We put up a finch feeder, a small general seed feeder, and one for suet. The suet lasted about two weeks, the finch feeder holds enough for several days, but the general feeder could be refilled several times a day if we felt like it.

The most obvious visitors are the Starlings, immigrants from Europe. They come in gangs and the bully the other birds and each other as well. I'd just as soon see them go hungry, but that's only my personal sentiment towards Starlings. I'm sure they would disagree with that. Still, if they were rare, we would be admiting their intricately speckeled black coat of feathers. As it is, we resent them rather than admire them.

A few English Sparrows also show up, which are not sparrows actually. I think they are better described as "house finches." They don't constitute a threat to the other birds, as far as I have noticed.

The native birds include an abundance of Goldfinches in their drab winter uniforms. The so-called "Purple Finch" is also common, but the color on its head and chest (in the males anyway) is orange, not purple. We also have numerous Juncos visiting the feeders. We also have visits from several types of native sparrows, none of which I can identify so far. There was a time, maybe sixty years ago, when I could identify all the common native bird species here in Indiana.

Two Cardinals, a male and a female, also hang around our place and come to the feeder from time to time.

One lone Bluejay occasionally shows up around the feeder, but it is shy and generally is pushed away by the starlings. Bluejays are in the crow family, which has been hit very hard in North America by the West Nile Virus. When I was a kid, Bluejays were common and tended to be the bullies that Starlings are today. Things have changed.

An occasional Chickadee also flits by, but they seem to be extremely shy and next stay at the feeder when we are around.

I've tried to take pictures of some of these birds at the feeders, but my expensive little Canon point-and-shoot digital never gets the focus on the birds themselves. My expensive Nikon D-70 SLR is having age problems, and I may need to get a new camera body to replace it. At least the Nikon's lenses should work with the next Nikon camera body I buy as a replacement.

If this snowy winter weather persists much longer, I'm going to have to dig out some of my old bird books and see who some of our feathered visitors really are.

Good gardening, from here in central Indiana

Jim

Look up technical terms in the Glossary of Plant Biology
Monday, February 15, 2010, 4:00 PM EST - Hippeastrum
Hippeastrum Starting to Bloom

Hippeastrum [papilio x mandonii] #1455.A
The hybrid [papilio x mandonii] came from one of my bulbs of papilio in bloom in March, 2002. I had stored pollen from mandonii when it had blooms some months before, and used that to pollinate the papilio. The seeds took two months to ripen; then I floated them on water till they were nice seedlings with a leaf at least an inch long. They were planted in a community pot. After a few years, they were repotted into individual 1-gal. pots. All the seedlings from that batch have my serial number 1455. Several of them have bloomed or are getting ready to bloom. That makes 8 years from pollination to first flowers.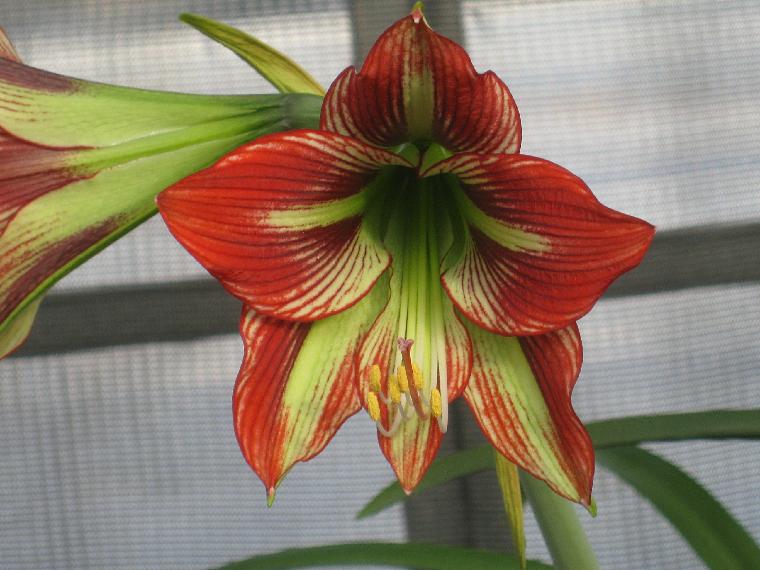 Hippeastrum [papilio x mandonii] #1455.B
One of my papilio bulbs has a scape starting.
Hippeastrum petiolatum are also in bloom. These grow quickly; and once they start to bloom, this strain at least produces two scape every year.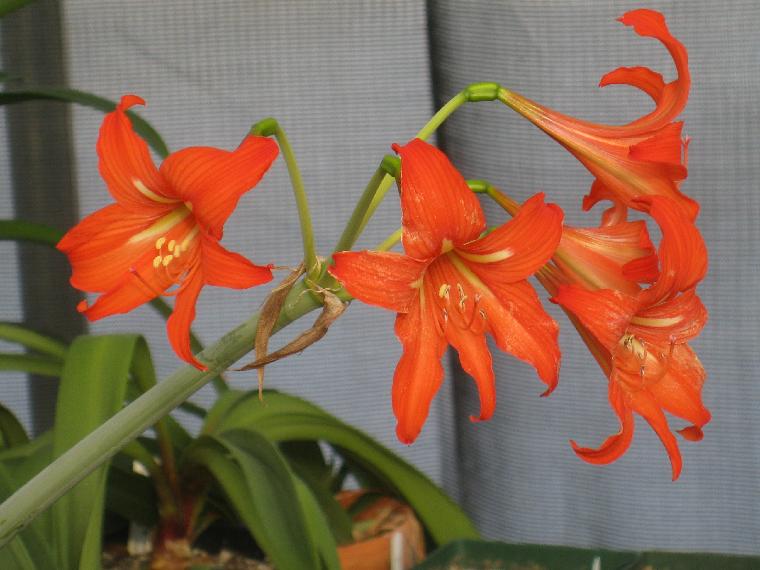 Hippeastrum petiolatum
These flowers are 70 mm, less than three inches, across. There are 4 or 5 flowers per umbel, at least this time. Both bulbs have a second scape starting as the first scapes are in full bloom.
Good gardening, from here in central Indiana
Jim
Look up technical terms in the Glossary of Plant Biology
Wednesday, February 17, 2010, 4:00 PM EST - Feeding Plants
Fertilizers and Bulbs
I'm sure I have covered this previously in this blog, but I failed to index it then and I can't find it now. So, for the record, I am going to discuss my approach to feeding my bulbs.

For all practical purposes, plants can only absorb inorganic compounds from their environments. Adding organic composts will require that these materials be completely digested by microorganisms in the soil before the nutrients in them become available to the plants. In growing plants in pots, it is hard to keep a good balance of beneficial soil microorganisms growing. Rather, you are more likely to be encouraging growth of disease-causing microorgnaisms by adding organic composts to plants in pots.

There are two overall groups of required nutrients for plants, the so-called macronutrients and the micronutrients. Both are equally important; only the quantities needed are different.

Macronutrients

The three components of most commercial fertilizers are macronutrients: nitrogen (symbol N); phosphorus (symbol P), almost always as phosphate; and potassium (symbol K) sometimes erroneously referred to as "potash." In fertilizers the contents of these three nutrients are expressed as the N - P - K values. A value of 20-10-15 would indicate the fertilizer contained 20% by weight of elemental nitrogen in any of several forms. It would contain 10% of phosphorus, expressed as P2O5 and therefore somewhat less of the element P than indicated. It would contain 15% potassium, expressed as K2O, so again slightly less K than the label shows. I've no idea why, in the 21st century, the US government uses such archaic labeling.

Other macronutrients needed by plants in substantial amounts include calcium (symbol Ca), commonly found in limestone as calcium carbonate (CaCO3), a highly insoluble and therefore very gentle alkaline substance used for neutralizing acidic soils. Sulfur (symbol S) is the final macronutrient. It is found in nature as elemental sulfur, but is usually supplied to plants as sulfate (SO4). Sulfate is the form in which plants absorb and metabolize sulfur.

Micronutrients

Micronutrients are just as essential to plants as the macronutrients, but are needed in much smaller amounts. They are the elements boron (B), copper (Cu), iron (Fe), magnesium (Mg), manganese (Mn), molybdenum (Mo), and zinc (Zn). Because they are needed in such small amounts, they are also referred to as the "trace elements."

Forms of Nitrogen

Nitrogen in fertilizers is found in two chemical forms: as ammonia (NH3) and derivatives of ammonia; and as nitrate (NO3). The best form for plants is nitrate, since plants can absorb and metabolize nitrate directly. Ammonium compounds are much less easily absorbed by plants. In fact, ammonium compounds are most readily metabolized by bacteria and fungi in the soil.

Continuous Liquid Feeding

I recommend feeding your plants with a dilute solution of soluble plant food every time you water them. We use 100 p.p.m. of nitrogen from a soluble plant food, 20-10-20 with micronutrients. To get about 100 p.p.m., add about 1/3 of a level teaspoonful of the crystals per U.S. gallon of water. If you speak Metric, we want 100 mg. of nitrogen per liter of water; since the N is 20%, that is 500 mg (0.5 gram) of solid fertilizer crystals per liter.

Bulbs analyze for 16% nitrogen, a little less than that for potassium, and less still for phosphorus. There is usually no reason to increase the ratio of any one of them versus the other two. I suggest using a completely soluble fertilizer, with as much of the N as nitrate as possible, and N-P-K of about 20-5-15.

Good gardening, from here in central Indiana

Jim

Look up technical terms in the Glossary of Plant Biology

Saturday, February 20, 2010, 3:00 PM EST - Clivia Crosses
Types of Crosses
We made two principal types of Clivia crosses last year: 1) Using peach parents; and 2) Using red parents. "Peach" encompasses pink and pastel, as well as real peaches like 'Victoria Peach'. "Red" is anything red, light red, red-orange, or even occasionally deep orange. So far, we have seen light to medium reds and red-oranges, but no real red colors on Clivia flowers here in our greenhouse. In Indiana, and in the Northeastern USA in general, there is simply not enough sunshine in winter to bring the real red coloration to the plants growing here.

Fertility of Crosses