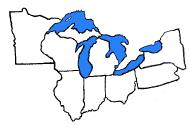 Great Lakes Bulb Society
We are a group of enthusiasts for growing bulbs in the Great Lakes and Ohio Valley area of North America. Our group is organized in a very loose way.
"Bulbs" includes all geophytes (plants growing from bulbs, tubers, corms, or rhizomes.) We are interested in and grow either hardy bulbs (growing in the ground all year round) or tender bulbs.
If you share these interests and you live in the general geographic area of concern, you can contact us at jim@shieldsgardens.com for more information on joining our group. We welcome new members and we invite you to join us.
---
Projects
---
Meetings
2001 Annual Meeting

Our next meeting will be on Saturday, May 4, 2001. It will be held in conjunction with the meeting of the International Bulb Society at the Chicago Botanic Garden, Glencoe, Illinois. E-mail Jim Shields for more information.

Great Lakes Bulbs Meeting of July 15, 2000

Some pictures of Great Lakes Bulbs members from the meeting.
---
For information about this account, contact: James E. Shields,
jim@shieldsgardens.com

Last updated: 07 January 2006
© Copyright 2002, 2006 by James E. Shields. All rights reserved.