Shields Gardens Ltd.

Bulbs from Westfield
---
The Genus Resnova
from Shields Gardens Ltd.
Resnova is a new genus in the family Hyacinthaceae, endemic to Southern Africa. There are several species. Most were formerly in the genus Scilla.
From IPNI:

Resnova humifusa (Baker) U.Müller-Doblies & D.Múller-Doblies (IK) -- basionym: Scilla humifusa (Baker)
Resnova lachenalioides (Baker) van der Merwe (IK) = Scilla lachenalioides
Resnova maxima van der Merwe (IK)
Resnova minor van der Merwe. (IK)
Resnova nossibeensis (H.Perrier) F.Speta (IK)
Resnova pilosa van der Merwe. (IK)
Resnova schlechteri (Baker) van der Merwe. (IK) = Scilla schlechteri van der Merwe
Resnova transvaalensis van der Merwe (IK)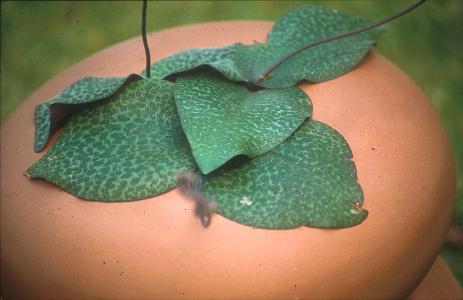 Resnova megaphylla is native to the eastern Transvaal (Mpumalanga and Limpopo provinces) in South Africa. The flowers are white inside with rosy bands on the outside.
To quote from the Penrock Seeds and Plants on-line Newsletter:
"One of the most beautiful of all South African bulbs is Resnova megaphylla. The broad leaves are extremely handsomely spotted and blotched with inky blackish mauve and rich chestnut. Many leaves have underlying secondary spotting of pale slate and ashy grey. The species is found growing quite abundantly in a restricted area of hills just within the eastern boundary of the Sekhukhuneland centre of floristic endemism. " [from http://www.penroc.co.za/pages/newslet0902.htm ]
Other links to images and information on Hyacinthaceae at: [Amaryllids]
---
| | | |
| --- | --- | --- |
| | Orders: 1-866-449-3344 Toll-free | |
| | International: ++1-317-867-3344 | |
---

Jim Shields < jim@shieldsgardens.com>, webmaster
Last revised on: 15 June 2008
© COPYRIGHT 2003, 2008 BY SHIELDS GARDENS LTD. ALL RIGHTS RESERVED.