Shields Gardens Ltd.

Daylilies, Clivias, and Bulbs from Westfield

---
About Us
What and Where is Shields Gardens?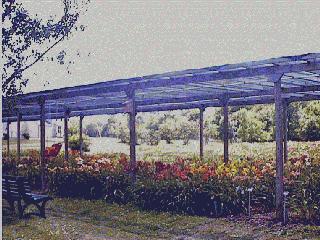 We are a small hobby garden and greenhouse. We grow about 200 named varieties of daylilies, including ca. 40 of our own introductions.
We also grow rare and exotic bulbs and fine Clivias.
Take a virtual visit to the gardens for scenes around the nursery.
---
Our New Greenhouse
We built a new large greenhouse. For how it was constructed, see: New Greenhouse
---
Garden Visits
Our main bloom season is usually from about June 22nd through about July 15th. Visitors are welcome in the bloom season, especially on weekends, when we usually have someone in the garden. At other times, please call ahead for an appointment. Telephone 317.896.3925
The Garden is located in Westfield, Indiana, about 25 miles north of downtown Indianapolis [click here for regional map]. To reach us, take US 31 to the intersection with State Road 32. Drive east on S.R. 32 for about 1.5 miles, to Grassy Branch Road. We are on the west side of the road at 17808 Grassy Branch Road, about 0.2 miles north of S.R. 32. [click here for local map.]
We are located in USDA zone 5 in central Indiana.
Shields Gardens Ltd.
P.O. Box 92
Westfield, In 46074
U.S.A.

---

Jim Shields <shieldsgardens@gmail.com>, webmaster
Last revised on: 24 August 2011
© COPYRIGHT 2011 BY SHIELDS GARDENS LTD. ALL RIGHTS RESERVED.