Shields Gardens Ltd.

Clivias from Westfield

---
---
Building our new
Clivia House
In Westfield
We decided in 2003 that we had to construct a year-round greenhouse for our Clivia plants and breeding. This is the on-going tale of the building of that greenhouse.
We at first thought of putting up a house 24 ft (7.2 m) by 48 ft. (14.4 m). When we calculated how many 1-gallon or 2-gallon pots of clivias that would hold, we had to reconsider. We settled on a structure 28 ft. wide (8.4 m) by 96 ft. long (28.8 m), or 2688 square feet under cover.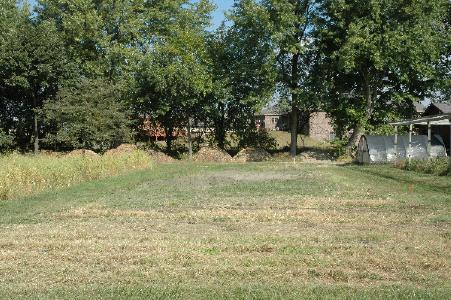 September: The Site started out as a grassy nursery bed.
The floor will be two layers of crushed stone, compacted firmly, and covered with landscaping cloth (weed barrier). The house is surrounded just outside the walls with a shallowly buried drainage line.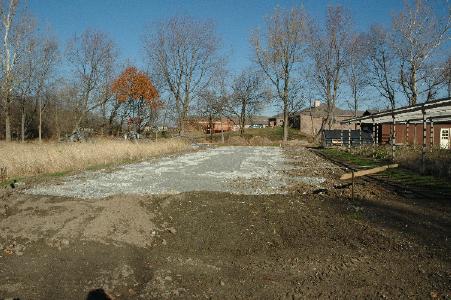 October: The gravel has been put down. At this point, the weather and competing
projects that the builders had going concurrently began to slow us down.
The frame is of galvanized square tubular steel. Steel trusses overhead are support at each end of each truss by 4-inch square steel posts set in the ground in concrete. The framework will be covered with twin wall polycarbonate plastic. This is two layers of clear plastic held 8 mm (ca. 1/3 inch) apart by internal plastic ribs.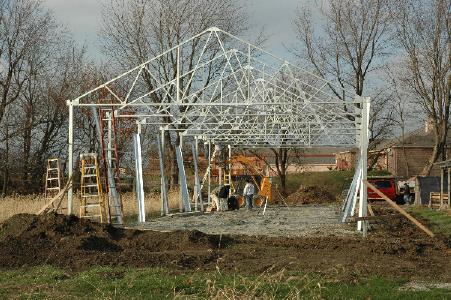 November: The steel has finally started going up. The trusses span
28 feet from wall to wall, and sit 12 ft above ground atop the posts.
We wanted to be able to use the house in winter, of course. That will require a lot of heat in our climate. It will be heated by two overhead natural gas furnaces, one at each end of the building, facing towards each other.
Summer weather here is at least as great a challenge as winter. We will have a large swamp or evaporative cooler in one end wall. At the opposite end, there will be three large exhaust fans to force hot air outside, drawing cooled air in through the swamp cooler.
A powered shade system will be installed at the eave level, consisting of retractable shade cloth riding on wires strunt tautly between the trusses. The shade can be retracted or extended by an electrical motor powering a series of gears and drive shafts.
The heating, cooling, ventilation, and shading will all be controlled by one electonic master environmental controller. It will have sensors inside the greenhouse for measuring temperature and sunlight, as well as sensors outside to detect exterior temperature, wind speed and direction, and precipitation. At a pre-set wind speed, it will close all the vents and turn on exhaust fans to keep a slight negative interior pressure to stabilize the roof and walls against wind forces.
A drip irrigation system will distribute water to the plant benches through overhead pipes dropping down to benchtop level and ending in a solenoid valve feeding distribution lines of spagetti tubing. The solenoid valves will be controlled in pairs by a central irrigation timer with 14 channels.
---
| | | |
| --- | --- | --- |
| | Orders: 1-866-449-3344 Toll-free | |
| | International: ++1-317-867-3344 | |
---
For information about this account, contact: James E. Shields, <jim@shieldsgardens.com>, webmaster
Last revised: 8 December 2004
© Copyright 2004 by SHIELDS GARDENS LTD. All rights reserved.