Shields Gardens Ltd.

Clivias from Westfield

---
---
Building our new
Clivia House
In Westfield
Page 2
When the steel started going up, we were sure things were going to move right along.
It didn't work out quite so smoothly as that. Critical pieces were on back-order. The weather was miserable -- and sometimes too wet or too windy for the crew to get up 20 feet in the air to work.
At last, the complete roof covering was in place.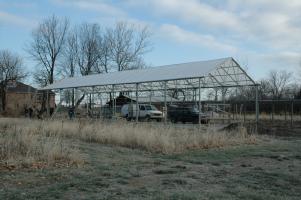 December 15: The Greenhouse Finally Under Roof
Then the side walls started going up.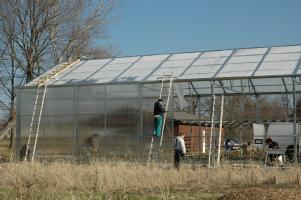 December 17: The Side Walls Are Started!
Eventually the side walls were finished. Wind severely hampered attempts to handle the large (6 ft X 14 ft) panels of twin wall polycarbonate siding.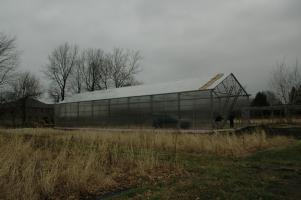 December 31: The Two Long Side Walls Are Done.
The work is finally starting on one end wall. This wall will have the evaporative cooler in it, a 6-inch thick wall 4 feet high and 26 ft long that will qallog air to pass through in a horizaontal direction with water runs through it vertially.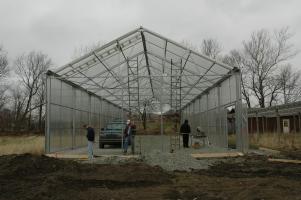 December 31: Starting Work on One End Wall.
---
| | | |
| --- | --- | --- |
| | Orders: 1-866-449-3344 Toll-free | |
| | International: ++1-317-867-3344 | |
---
For information about this account, contact: James E. Shields, <jim@shieldsgardens.com>, webmaster
Last revised: 31 December 2004
© Copyright 2004 by SHIELDS GARDENS LTD. All rights reserved.