Shields Gardens Ltd.

Clivias from Westfield

---
---
Building our new
Clivia House
In Westfield
Page 3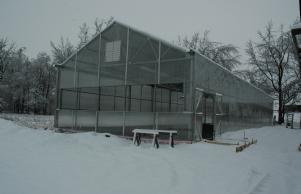 January 8: The Greenhouse Gets Endwalls. This is the south end wall, which will have the swamp cooler.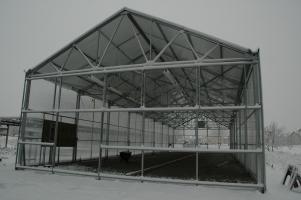 This is the north end wall, where the other door will be as well as 3 large exhaust fans.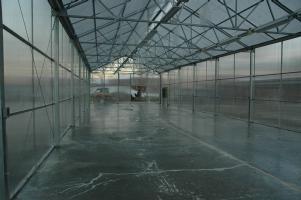 January 14: They poured the concrete floor on the 12th and finished it on the 13th. View standing inside the south end looking at the north end of the building. Meanwhile, our temperatures have gone from 66°F (19°C) on the afternoon of the 12th to 20°F ( -7°C) this morning. Skies have gone from heavy clouds and rain to blue and sunny.
I had expected to do without a nice concrete floor, but the contractor made me a price I could not refuse. This is their off season, and they would have been sitting at home doing nothing without my job, it seems. This one is much much better than a gravel floor would have been.
The gas company just arrived to run the gas line over to the new greenhouse and set a meter. That means they will trench through the new gravel driveway that the concrete contractor had to put in yesterday to get their heavy equipment out. Oh, well! It is still, over all, net progress.
---
| | | |
| --- | --- | --- |
| | Orders: 1-866-449-3344 Toll-free | |
| | International: ++1-317-867-3344 | |
---
For information about this account, contact: James E. Shields, <jim@shieldsgardens.com>, webmaster
Last revised: 22 January 2005
© Copyright 2005 by SHIELDS GARDENS LTD. All rights reserved.