Shields Gardens Ltd.

Clivias from Westfield

---
---
Building our new
Clivia House
In Westfield
Page 4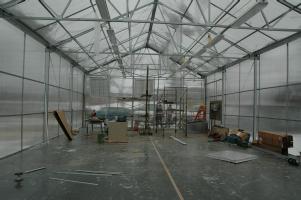 January 19: The greenhouse gets exhaust fans and louvres installed. Louvres cover the inside of the fans to reduce heat loss in cool weather.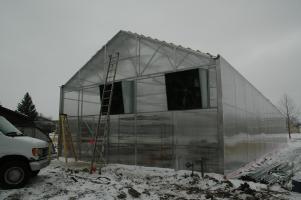 This is the north end wall outside, showing two of the three large exhaust fans installed. The bottoms of the fans are about 8 feet (2.4 m) above the ground.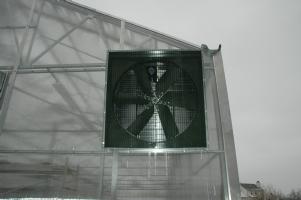 Close up of one of the fans, 42 inches in diameter, powered by a 3/4-hp electric motor. Wire mesh covers the outside of each fan housing, to keep small birds out of the fan.
January 19-22: The three large exhaust fans were installed. The evaporative cooler will then go into the south end wall. The two large gas furnaces (200,000 BTU each) are being hung. Wiring remains to be done.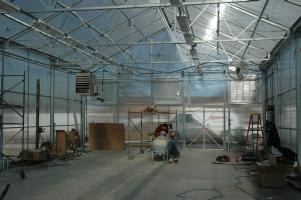 January 27: The furnaces have been installed, the gas meter installed, and the furnaces connected to the gas meter. They test out OK. Now to get the electrical wiring and the shade system finished.....
---
| | | |
| --- | --- | --- |
| | Orders: 1-866-449-3344 Toll-free | |
| | International: ++1-317-867-3344 | |
---
For information about this account, contact: James E. Shields, <jim@shieldsgardens.com>, webmaster
Last revised: 27 January 2005
© Copyright 2005 by SHIELDS GARDENS LTD. All rights reserved.