The Daylily Place
---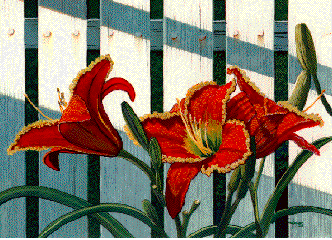 The WWW home page of the early
Daylily E-mail Robin
This is the Home Page on the World Wide Web for the Daylily E-mail Robin, a group of members of the American Hemerocallis Society who share experiences and ideas about daylilies by means of the Internet.
"The Daylily Place" by Rich Haynes
From the collection of Mr. and Mrs. James E. Shields
© Copyright 1995 by Richard William Haynes.
All rights reserved. Reproduced by permission.
---
Topics covered may from time to time include:
Members' favorite daylily cultivars

Hints and tips from members

Hybridizing daylilies
Daylily Hardiness

Electronic Imaging of Daylilies

Past polls of E-mail Robin Members

On-line daylily sites
Specialty Daylilies
---
Send comments to jim@shieldsgardens.com.
---
For information about the Daylily E-mail Robin, contact:
The E-mail Robin leader, Tim Fehr, fehrtj@charter.net or else:
Ted White, TedWhite1@aol.com, or Robert Stanton, stantonr@stjohns.edu
---
Daylily Organizations
---
The opinions expressed by contributors to these pages are solely those of the individual writers and do not necessarily reflect the opinions of the account owner, the other members of the Daylily E-mail Round Robin, or of the Friends of the Daylilies.
Last revised: 23 June 2007
For further information about The Daylily Place, contact us at jim@shieldsgardens.com
© Copyright 1995-2002, 2007 by James E. Shields
All rights reserved.